It all started two years ago on a typical British rainy evening where I found myself searching the Internet for ideas on what I could create my late Grandfather for his birthday. I stumbled across an Etsy listing for a Leather Ipad case and thought to myself that doesn't look hard to make. How nieve was I! Little did I know that this would be the beginning of my journey into the Leathercraft world. I found myself spending hours watching Youtube videos and searching forums for as much information on Leathercraft as I possibly could. After weeks of research, I finally built up the confidence to order a handful of tools, such as an edge bevel, Japanese leather knife, leather dye and a small side of vegetable tanned leather.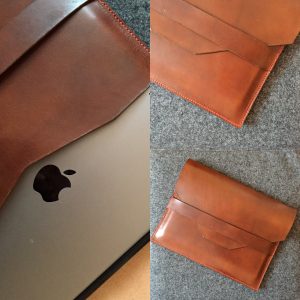 I was like a child at Christmas when the packages finally arrived ripping the packaging off, however, I quickly realised I didn't have a clue how I was going to make an Ipad sleeve. For a start, I was stumped by how you would measure the iPad to ensure a snug fit? Plus I wanted it to hold a detachable keyboard with doubled the width of the iPad while attached. I found myself learning from trial and error on my first few projects, learning from my mistakes and taking them forward onto the next project. The iPad sleeve turned out to be a success with my Grandfather really appreciating the gesture.
Since that day I have continued to learn new techniques from my fellow leather crafters on each project I undertake. I am by no means an expert just a normal guy with a passion for making things out of leather. On my recently launched Etsy page, you will find a selection of my work that is available to purchase. Over the coming months, I plan on building up a small amount of inventory to allow me to setup a stall at a local market here in Wales.
I have decided to launch this site to act as a platform for me to showcase my products while helping my customers and fellow Leathercrafters learn about the process used to create them. I welcome any feedback or questions you may have